Shibumi Gallery
Located in Berkeley, California, Shibumi Gallery showcases contemporary jewelry, art and textiles created by accomplished local and international artists as well as emerging talent.
The gallery exhibits uniquely crafted and exquisite works while also striving to be a space that enriches the local community and culture.
Shibumi Gallery is curated by April Higashi, who has been working as a contemporary art jeweler, curator and gallery owner in the San Francisco Bay Area for over 20 years. Founded in 2005, April conceived the gallery to be a dynamic space where she could not only create and exhibit her own work, but also showcase the inspiring work of fellow artists. Her ability to spot emerging talent, coupled with a discerning eye and welcoming presence, has made the exhibits and special events at the gallery a favorite destination for collectors, jewelers and the creative community at large.

shi-'bu-me\ n. a subtle, unobtrusive, and deeply moving beauty cherished by artists and connoisseurs.

Work / Life / Balance
The unique space also encompasses the workshop of April Higashi Jewelry which enables the gallery to create custom work on the premises and gives customers the opportunity to experience a working jewelry studio.
The gallery and studio is located in West Berkeley, four blocks away from the Fourth Street shopping area on Artisan Row. This mixed use area includes many artist studios, wineries, breweries, resteraunts and creative talent.
April lives above the gallery with her son Ando.
Our staff
The Shibumi Gallery staff are all artists, designers and makers. We feel like we offer our clients a deeper connection to the work because of our experience and relationship to the work. While we have great customer skills you will not feel like you are being sold something that does not feel like you. Our staff has been encouraged to connect to you as a person and show the work in a way that feels authentic. Since the people in the gallery are all metalsmiths we are great at custom work and can help you interpret your style or work with our artists to create a special piece. We value a work life balance and "over hire" so that along with working at Shibumi we all can explore our interests and continue to grown and bring new ideas and life to the studio.
April Higashi. Owner; gallerist, designer, maker, boss lady, Shibumi: 2005
Ben Faryna. Lead Goldsmith; maker, mindreader, deep thinker, aesthetic perfecter, 2011.
Kate Eickelberg. Gallery Assistant; costing + custom go-to, maker, observer, grammar enthusiast, 2012.
Trevi Pendro. Gallery Assistant; fellow hapa, newest addition in the gallery, social media coordinator, staff photographer, maker, tattoo addict, 2017.
Aya Osada. Bookkeeper; life straightener, maker of patterns, parrot owner, 2015.
Karen Lee. Identity Builder; fact checker, editor, designer, gardener extraordinaire, 2004.
Claudia Alleyne. Gallery Manager; right hand gal, assists in everything, custom design, maker, lover of African anything, 2016.
Nina Bocobo. Assistant Goldsmith; deep learner, on-call staff model, snack coordinator, maker, organic object collector, 2016.
Ethical and creative business is our priority. While we don't like to spin how "Green" or "Eco" we are as a sales pitch, we do use all recycled metals and our stones follow Kimberly Process certified guidelines. Our artists also follow these guidelines. When answering the question of our jewelry being "Green", we prefer to offer you a company that is ethical, uniquely creative and open to trying new things. We are a group of people who love making things, feel strongly about aesthetics, have over 20 years of knowledge and experience in making jewelry and have a strong community around us that also appreciates these values.
Our jewelers are curated into the gallery based on a unique vision and artistic background. Content of inspiration is important and our preference is that our jewelers approach their work as artists and have background in making art from a personal connection. While aesthetics are of high importance, we also value exploration in the work and experimentation. We do not represent jewelers who only design and do not have a background in making. Our jewelers are artists. Many of them are inspired by the natural world.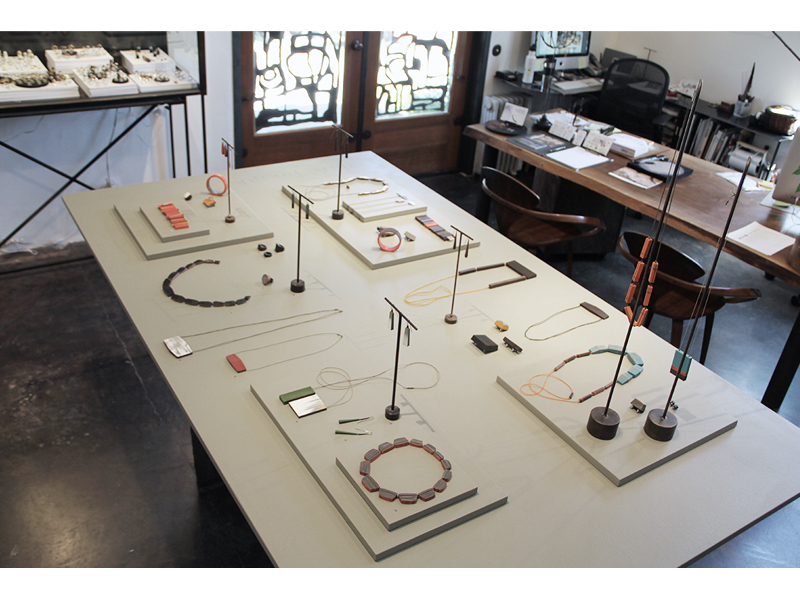 Shows and representation. We have around six shows a year featuring both solo artists and groups. Please sign up for our mailing list if you would like to know more about our upcoming shows.
If you are a jeweler and would like to submit work please email us with a submission. Please note that we get many inquiries and cannot respond to every submission. If we feel like you might be a good fit for our gallery we will contact you by email.
Collaboration makes life more interesting. We use our shows to bring in new work, clients and mix in new artists. At the gallery we have worked with a few select photographers to capture our life here at Shibumi, including: Aya Brackett, Cynthia E. Wood and Maren Caruso. We also have an ongoing documentation photo and story project with our clients: Shibumi Project. Shibumi Gallery does special events that benefit non-profit organizations and help our community. Past events have included: NO ON PROP 8, Girls Inc, Lamda Legal, Earth Justice and the Lindsay Foundation. We want the world to be a better place and hope that we can help in small ways. April sees Shibumi as an incubator for creative growth and she hopes the people she hires go on to do bigger things.
Redesigning heirloom family jewelry. Besides showing contemporary work and unique wedding jewelry, we specialize in making new pieces from your family heirlooms or old wedding jewelry. The process starts by bringing in your stash; we'll assess what is reusable, what can be tested for a metal reuse credit and suggest possible ideas and designs with the metal and stones you have. A complete assessment will be emailed to you with your metal credit, sketches and quotes. Please call or email the gallery to schedule an appointment.